July 13, 2023
Club Pilates Brings Reformers to Pine Market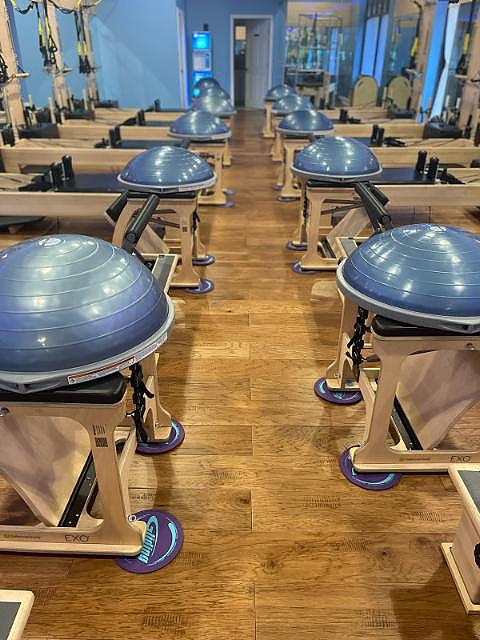 Pilates isn't just for dancers. It's for anyone seeking a path to a fuller, more satisfying physical existence. A path you can start down when Club Pilates opens in Pine Market in August.
Club Pilates is a boutique fitness studio featuring state-of-the-art equipment. Classes are reformer-based rather than focused on the floor.
"A reformer is an apparatus used in Pilates in which you use your own body weight as well as springs and straps to increase or decrease the challenge," said Candesse Ediger, General Manager for Club Pilates Woodforest. "It is a full-body and low-impact workout that works core strength without overloading or stressing joints."
Pilates conditions the smaller muscles throughout the body thereby improving balance, mobility and stability while preventing injuries. Students do not need to know anything about Pilates to get started.
"We believe that being in control of your body helps you to be in control of your life," Ediger said. "And best of all, we believe that you can start at any time."
The group classes range from beginner to advanced, with beginners focusing on form and alignment to build a solid Pilates foundation. As students progress, they learn more complex movements.
The reformer is not the only piece of equipment used. Exo-Chair, TRX®, Bosu ball, mats, rollers and more are used in cardio- and strength-building classes. A suspension class, for example, uses the TRX® suspension training system to enhance strength, coordination, mobility and balance.
All classes are led by instructors certified with a nationally recognized 500-hour comprehensive Pilates education program.
People interested in getting started can register for the free Club Pilates Intro Class. The 30-minute session introduces potential students to the studio, staff and equipment. Afterward, instructors can help students choose the right classes for their needs.
"Our motto is whether you need time to breathe, get fit or recover from an injury, our Club Pilates community is for EveryBody," Ediger said.