March 17, 2023
Meet the Easter Bunny at Pine Market April 1!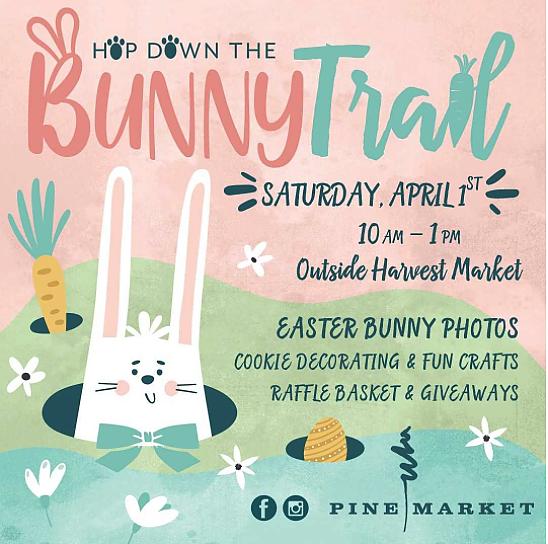 The bunny trail leads to Pine Market Saturday, April 1, with the Easter Bunny hopping in for an "eggs-citing" event.
Open to the public, the event will be 10 a.m. to 1 p.m. outside of Harvest Market in Pine Market, 2295 Woodforest Parkway North. Young visitors should be in their Easter best, as the Easter Bunny will be "hoppy" to take photos with them in front of a spring-themed backdrop. Parents might want to bring a spare T-shirt, though, because after taking photos, there will be cookie decorating (and eating!) from noon to 1 p.m. as well as fun crafts.
Parents won't be left out, either, as Pine Market retailers are stuffing a basket full of goodies to be raffled off. Among the donated items are a $10 gift card to Luv Coffee, a free one-day juice cleanse from Clean Juice and a free Diamond Glo Elite or 25 units of Botox from Simply Creative Aesthetics.
The April 1 event comes after a busy March at Pine Market that was filled with Taco Tuesdays and Thursday concerts at Wister's Bar & Grill, themed nights at Adventure Kids Playcare and self-defense workshops at Premier Martial Arts. Market-wide activities such as the Easter event will continue throughout the year, as well.
You can see what's coming up at the entertainment district of Woodforest here.
We hope you can "hop" by Harvest Market April 1!