August 08, 2022
New Amenities Named for Longtime Woodforest Staffers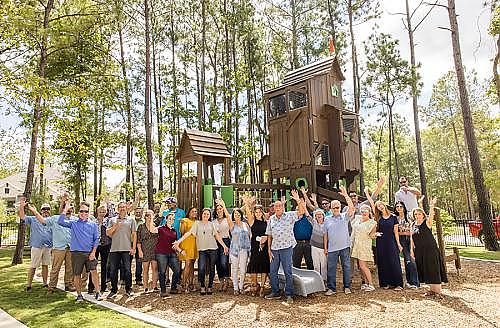 Two members of the Woodforest staff integral to our growth and development over the years recently received the highest honor we could think of. We named two of our newest
amenities
after them.
Virgil Yoakum, Senior Vice President and General Manager of Woodforest and Everett Coverdell, Woodforest's Construction Manager, were introduced to their namesakes at a recent ceremony attended by community leaders, engineers, planners and members of the Woodforest development team.
A new bridge in Christine Allen Nature Park in Woodforest has been named "Virgil's Voyage" in honor of Virgil. Virgil has been part of the development of Woodforest from the very beginning, joining the Johnson Development team in 2006.
A visionary, Virgil has served as a mentor and guiding light to Woodforest staff, urging them to become better developers and better stewards of the land.
As another tribute, the park where Virgil's Voyage bridge is located is named after Virgil's mother, Virginia Christine Allen, who passed away in 1981.
The newest park in Woodforest honors Everett, who is one of the community's original employees. Everett oversees all the infrastructure and amenity construction in Woodforest — including Everett's Peak Park. The park has three play areas. At the park's center is a shady open area with benches, tables and café lights strung in the shape of a star. A water fountain for two-legged and four-legged residents also has been installed.
Prior to coming to Woodforest, Everett worked in The Woodlands for more than 20 years. He is very passionate about parks.
We congratulate Virgil and Everett and thank them for all their hard work. Woodforest wouldn't be Woodforest without them.