February 01, 2023
Pine Market Perfects Valentine's Day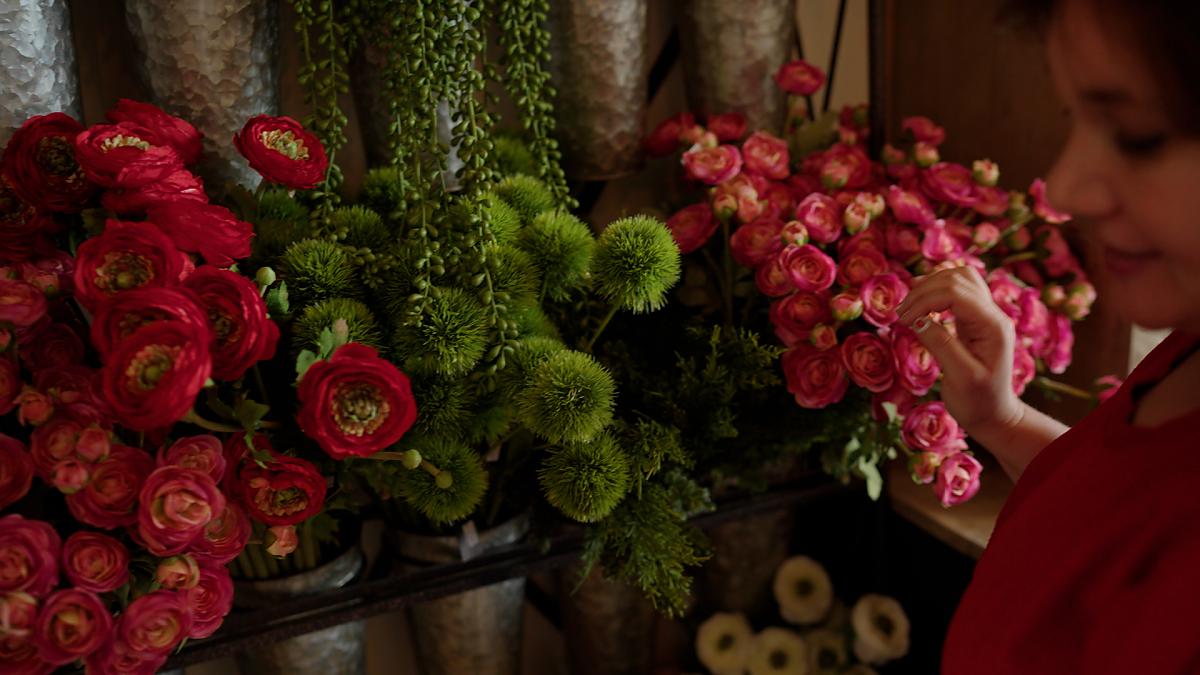 Planning the perfect Valentine's Day this year? Let the businesses at Pine Market help. From fine dining and salons to sweet shops and boutiques, everything you need to demonstrate your undying love is within easy reach.
Get Ready for a Romantic Evening
Prepare for your romantic night out with a trip to the best luxury salon in town. Indulge in a Brazilian blowout, try a new style and more so you look and feel your best.
Whether you are getting ready for a night on the town or a Galentine's Day celebration, Plush Nail Bar has got you covered with manicures, pedicures, massages and more. Guys, if you are looking for the perfect gift, we suggest the Roses & Champagne pedicure.
Men, don't show up for your romantic dinner looking like Grizzly Adams. Get that beard washed and trimmed! While you're at it, kick back with a beer or cocktail. Looking forward to a goodnight kiss? Invest in a shave.
Parents' Night Out
Get a jump on Valentine's Day and enjoy a quiet night out. Premier Martial Arts is hosting a Valentine's Party from 6-10 p.m. Saturday, Feb. 11. Kids can enjoy Valentine-themed relay games and pizza. You get uninterrupted cuddle time.
Kids will have a Valentine's Day blast at Adventure Kids Playcare's Valentine's Day party, 5 to 9 p.m. Tuesday, Feb. 14. In addition to themed activities, kids can play video games, write on the chalk-art wall, climb on the large playscape and more!
Romantic Meal at Home
Whether you plan to serve breakfast in bed or a four-course meal by candlelight, Harvest Market has everything you need. Pick up a loaf of sliced brioche from the bakery for delicious French toast. Planning a little surf and turf? Stop by the meat counter for ribeye steak and the fish counter for Chilean sea bass. Not much of a cook? Pick up a made-to-order meal.
Cabernet, chardonnay or Beaujolais. You can always find the perfect vintage to accompany your romantic dinner. There's also a great selection of top-shelf liquors and craft beer.
Dining with Finesse
Spoil your sweetie with the most beautiful sushi around. Each roll is a masterpiece. There's also a fantastic selection of sake, innovative cocktails, wine and other beverages. On Valentine's Day, your dinner comes with one free appetizer per couple.
Keeping it Casual
Not every couple wants a fancy dinner out. For those looking for a little fun with their honey, Wister's offers an extensive menu with everything from fresh salads and burgers to blackened redfish and pork rib eye. Don't forget to order the sweet potato pecan pie to share.
If the love of your life loves beer, take them out for an incredible array of local brews on tap. Hungry? Share small plates like truffle oil fries or build your own combo.
Spread some LUV with Valentine's Day-themed drinks and a cinnamon roll, avocado toast or a LUV club sandwich. If your sweetie can't live without their morning coffee, gift them a bag of their ethically and sustainably sourced beans. Best yet, 50 percent of all profits go to meet the basic needs of children in Haiti and India.
Sweets for the Sweet
Valentine's Day is all about the chocolate. Pick up truffles, chocolate-covered pecans and more from this sweet shop. If your sweetie has a favorite candy, purchase a pound as a gift.
Don't get caught handing over grocery store roses. Have a spectacular bouquet delivered instead. Bouquets can be designed to fit a range of budgets. If your beloved isn't a fan of flowers, arrange a gift basket.
Great Gifts
Find the perfect pair of earrings, a terrific top or a bath product sure to garner you a hug and a kiss. Everything in the shop is as unique as she is.
Nothing says "I love you" better than a customized gift. The inventory is huge and the options amazing. Don't forget to top it with a big, red bow.
If your loved one has four feet, treat them to some fresh baked treats, a new leash, cute clothes or more.
Healthier Gifts
Sometimes the most romantic gift you can give is one that keeps your loved one healthy. A F45 membership is perfect for anyone trying to slide a workout into a jam-packed schedule. The mix of circuit and HIIT-style workouts only takes 45 minutes.
Get healthy together with Anytime Fitness memberships. Jog side-by-side on the treadmill or spot each other during a weightlifting session.