July 11, 2022
Sugar Sugar! Sweetens Pine Market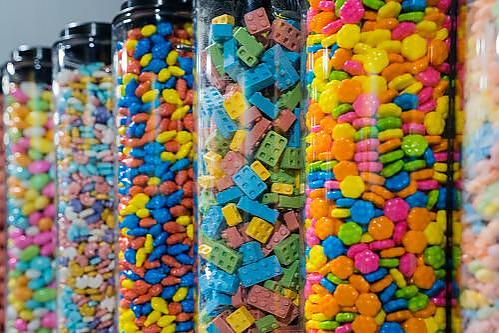 Pine Market has a sweet new tenant ready to make all your candy-coated dreams come true.
Sugar Sugar! opened recently at 810 Pine Market Avenue. The colorful store strives to have something sweet for everyone, including gluten-free, vegan and sugar-free options.
A display case is filled with sweet treats like white chocolate-covered pretzels, chocolate-covered pecans, truffles and more. What a way to get your sugar high! Pay-by-the-pound candies cover an entire wall. Shelves are stocked with hundreds of options, including gummies, chocolates and nostalgia candies.
Candy isn't all that's offered. Sugar Sugar! serves up Blue Bell ice cream and old-fashioned sodas. Candy lovers can also purchase sweet t-shirts displaying the Sugar Sugar! logo.
Welcome to Woodforest! We encourage everyone with a sweet tooth to stop by our new neighborhood candy store.