July 28, 2022
Woodforest — One of the Nation's Top-Selling Communities!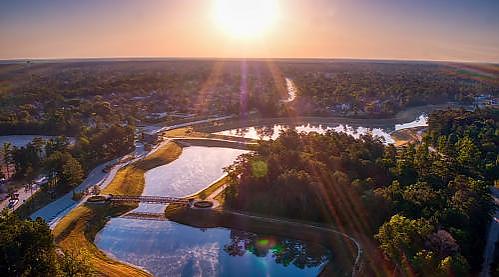 The numbers have been compiled, the communities ranked, and once again, Woodforest finds itself listed among the nation's 50 top-selling master-planned communities.
In its mid-year report, RCLCO lists Woodforest at No. 47 with 223 new-home sales during the first six months of 2022. It's no wonder hundreds of buyers seek out Woodforest — we offer an appealing mix of beautiful homes, engaging amenities and everyday conveniences. If you've been wanting all of this, you'll want to act fast — opportunities for a new home in our award-winning community are dwindling!
Dream Home Found
Thirteen builders offer homes in Woodforest, ranging from townhomes to single-family homes to custom homes priced well over $1 million. Available floor plans are wide-ranging, and Woodforest residents who see their needs change because of added family members or adult children moving out find it easy to upsize or downsize into a new home without leaving the community. There's even a neighborhood just for those ages 55 and up — Bonterra at Woodforest. Those wanting larger properties of up to a half-acre can visit with builders in our Pine Island neighborhood.
Whether you're looking for a home large or small, you'll enjoy the energy efficiencies and smart home technology that comes with owning a brand-new home.
It's Fun to Live Here!
There's always something going on in Woodforest! Our Director of Fun maintains a busy calendar of engaging parties, festivals, classes and more. Neighbors gather at Forest Island for swimming, tennis, basketball and more. It's common to see families at Christine Allen Nature Park fishing or picnicking. Four-legged family members head to Admiral Bark Park for leash-free play. Proud parents and grandparents cheer on their young soccer players at Stampede Sportsplex. In the evening, people head to Kingsley Park for barbecues under the café lights.
And there are more amenities coming soon! Everett's Peak Park is now open and The Vue at 181 will bring a third pool to Woodforest, as well as a second bark park, nine-hole disc golf course, an open-air pavilion with a commercial catering kitchen and an open lawn.
So Convenient!
For years, Woodforest residents have enjoyed having an onsite school, church, gas station and pharmacy open in the community, but recently, more and more businesses have been opening with the expansion of Pine Market.
The Harvest Market "grocerant" anchors Pine Market, offering groceries and restaurants. Restaurants, shopping, fitness classes and more comprise the offerings at Pine Market, as do salons, dentists, medical offices, optometrists and more. The nearby Shops at Woodforest offer even additional onsite conveniences, from veterinarian services to a UPS store to a place to grab pizza.
Does this easy living in an award-winning community appeal to you? Our builders have dozens of homes under construction — there are even a handful of completed homes if you're ready to make the move now! See what's available here.